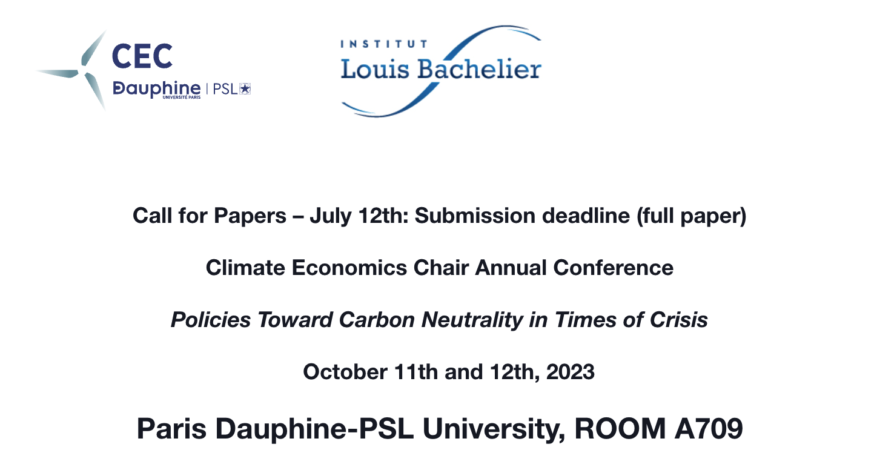 Supported Events
Climate Economics Chair Annual Conference – Policies Toward Carbon Neutrality in Times of Crisis
11 October 2023 - 12 October 2023
Location: Paris Dauphine-PSL University, ROOM A709
Organizer: CEC with the support of EAERE
SCOPE
Climate and weather events (heatwaves, droughts, storms), geopolitical events (economic and armed conflicts), as well as economics shocks (financial breakdown) depict a global context in which crisis overlap and accumulate, which have strong socio-economic impacts and can make climate action more difficult to implement. Meanwhile, achieving carbon neutrality of our society is an unquestionable objective to mitigate climate change and to avoid further worsening of those crisis.
Overall, understanding how net zero emissions can be achieved in the shortest delays, and coping with crisis and their implications at the same time are questions of paramount importance. This long-term perspective suggests identifying synergies and trade-offs between climate change mitigation and adaptation to crisis, elaborating combinations between short run adjustment and long term actions, and defining public policies and private strategies. An additional concern comes from the economic and financial environment, actually characterized by high inflation and remedies that stress the role of national policies, like the Inflation Reduction Act in the US.
This annual edition of the Annual Conference of the Climate Economics Chair will shed lights on these issues, by gathering researchers in economics, finance and econometrics.
TOPICS
Energy efficiency and sufficiency
Economics of carbon offsetting
Analysis of financial, geopolitical and natural risks
Climate policy analysis
Global climate finance
INVITED AND KEYNOTE SPEAKERS
Larry Goulder, (Stanford University)
Suzi Kerr (EDF)
Olivier Deschenes (University of California, Santa Barbara)
Massimo Tavoni (CMCC)
Mar Reguant (Northwestern University)
Maureen L. Cropper (U. Maryland)
Patrick Criqui (Université Grenoble Alpes)
Katheline Schubert (PSE)
PUBLICATION OPPORTUNITIES
A selection of high-quality papers presented at the CEC Annual Conference will be published in a Special Issue of Resource and Energy Economics (REE) under the Guest-Editorship of Anna Creti and Philippe Delacote. All papers must conform to the journal's content scope and will be processed through the journal's standard editorial review procedures.
SCIENTIFIC COMMITTEE
Andreas Löschel, Heidelberg University
Christian Gollier, Toulouse School of Economics
Dominique Bureau, Economic Council for Sustainable Development
Jonathan Wiener, Stanford School of Public Policy, Duke University
Katheline Schubert, Paris School of Economics
Larry Goulder, Standford University
Mar Reguant, Northwestern University
Maureen L. Cropper, Maryland University
Olivier Deschenes, UCSB
Ottmar Edenhofer, PIC Potsdam
Patrick Criqui, CNRS – Grenoble-Alpes University
Suzi Kerr, EDF
Thomas Sterner, Gothenburg University
Ying Fang, Beihang University
ORGANIZING COMMITTEE
SUBMISSIONS AND IMPORTANT DATES
Authors are invited to submit full papers (in English) in WORD/PDF files, no later than July 12th at the address: confcec23@chaireeconomieduclimat.org
Notification of acceptance will be delivered before July 31st. The conference scientific program will be available by September 1st.
General inquiries regarding the call for papers should be directed to the conference co-chairs: Anna Creti, anna.creti@dauphine.psl.eu and Philippe Delacote philippe.delacote@inrae.fr
Important dates
July 12th: Submission deadline (full paper)
July 31st: Notification of acceptance/rejection
September 1st: full scientific program
September 20th: Registration deadline
October 11th and 12th: CEC Annual Conference